THE 2018 HOLIDAY [CRYSTAL] GIFT GUIDE!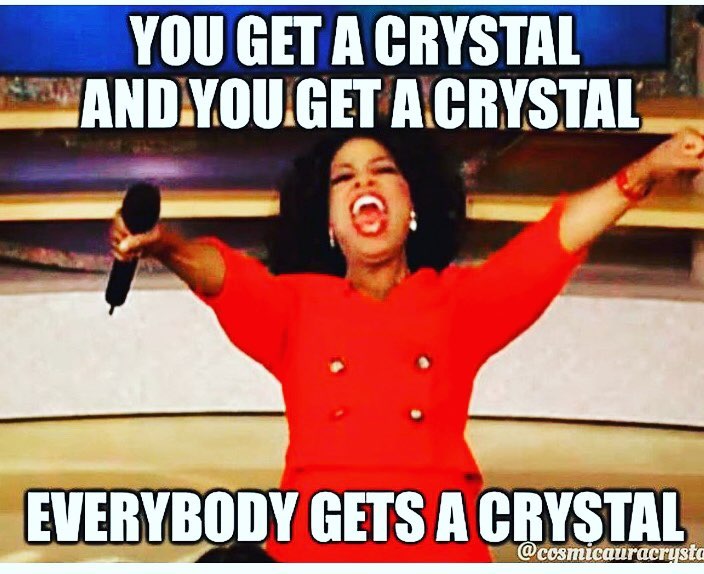 YASSSS QUEEN!  I mean why would we gift anything else!?!  But like really.  Here's my quick rant on why crystals make the best gift - for you, from you and for our planet.  Then read on to see the best crystals to buy everyone on your list. <3 . Of course they're just suggestions - and you can customize your crystal packages in whatever way tickles your fancy! 
*
*
*
FIRST OFF - HERE IS WHY CRYSTALS MAKE THE BEST GIFTS:
They LITERALLY last forever!
They are ZERO waste
They are 100% eco-friendly
They are 100% unique
They can be completely personalized to whomever you're giving to
You can make a really lovely impact on someones life - whether just making them smile or helping them in their own journey to authenticity (happy sigh)
OK, RANT OVER...NOW ON TO THE 2018 GIFT GUIDE...WOO!  HERE WE GOOOO...
FOR THOSE JUST STARTING THEIR SPIRITUAL JOURNEY
The Crystal Boutique's Chakra Stone Starter Kit - complete with 7 perfect size crystals for each chakra (chak-wha?) and an information card about how to use them and what the HECK each chakra is!
FOR THE GIRL WHO LOVES TO YOGA BUT ALSO LOVES TO PARTY
The Crystal Boutique's Cosmic AF Kit - need we say more you cosmic badass?
FOR THE GIRL WHO ONLY FOLLOWS TRAVEL INSTA ACCOUNTS
The Crystal Boutique's Wanderlust Crystal Kit will keep you calm from missed flights to missing your new international lovahhhh (hehe).  
FOR THE GIRLBOSS, YOUR WORK BESTIE, AND BOSS
The Crystal Boutique Workspace Wellness Crystal Kit will have you covered from stressful days to promotions!
FOR THE LUXURY LOVER 
Pyrite and Polished to Perfection Quartz Points are the sweetest little luxuries.
FOR YOUR BEST FRIEND FOREVAAAAA
A Lapiz Lazuli Sphere - it's the crystal of friendship, truth, and companionship!
ALL. THE. CRYSTALS...DUH.  BUT if we were to pick one, it would be a Rose Quartz sphere - nothing is more important than the self love vibes that are exploding from rose quartz.  And our spheres are palm sized PERFECTION.