How To Stack and Layer Your Necklaces (and Jewelry)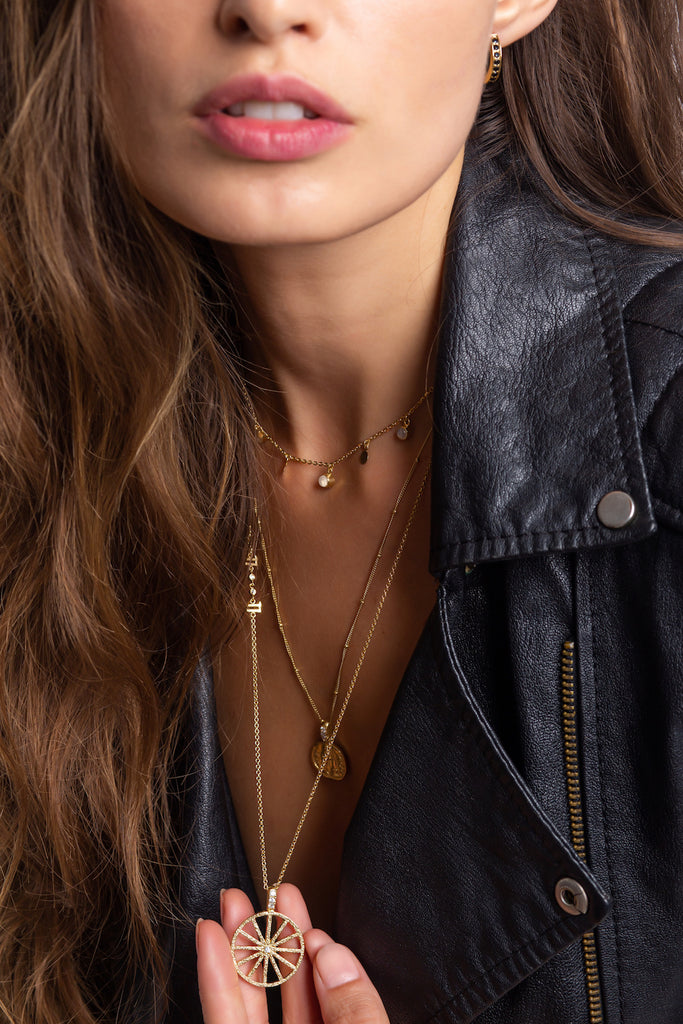 The one trend in jewelry that will never go out of style is layering and stacking your necklaces.  There's no such thing as too many jewels.  Whether you want to stack your neck, wrists, or fingers with bling - we'll tell you how.
1.  Mix up your layers with different weighted jewelry.
Layer a mixture of delicate necklaces with statement pieces.  A dainty gold choker combined with a heavier gold necklace with a statement piece hanging from it worn directly below the choker it is the perfect way to start your layer.  Finish with a long piece that hits right above your chest or drapes into it. 
2.  Mix the types of chains up (but use the same metal!).
We love mixing satellite chains with box chains and whatever else with all different thickness and length.  But pro tip - try to stick to all gold or all silver when mixing this way.   This will ensure a stunning and stylish gold layered necklace look.  
3.  Don't be afraid to stack your wrists too! 
Your wrists don't need to be bare while your neck gets all the action.  The same rules apply for your wrists.  PRO TIP:  Use a choker as a bracelet - it will look like you're wearing two bracelets!  All of our chokers double as gorgeous two layer bracelets.  Throw on two chokers, and one bracelet and you got yourself a gorgeous bracelet stack.  
4.  Don't worry too much about "where" the necklaces fall.
Whether you combine 3 or 5 necklaces, the way they fall on your neck with create your own gorgeous custom necklace stack look.  
To shop all of our layering jewelry, click here.