THE ESSENTIAL HEALING CRYSTAL GIFT GUIDE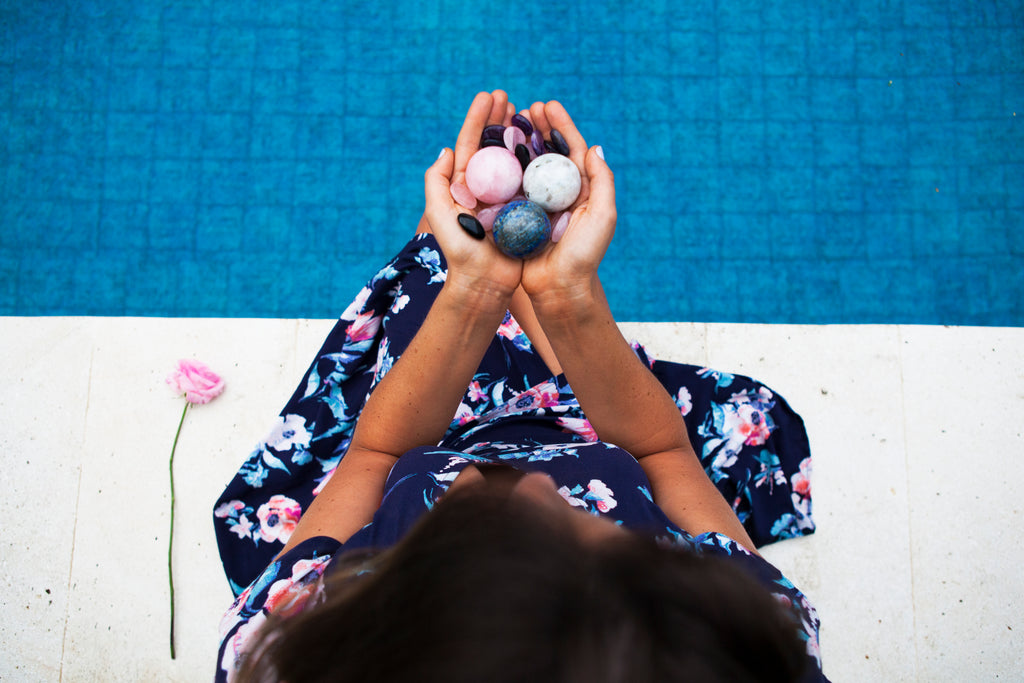 A GUIDE TO THE MOST EXTRAORDINARY GIFT TO GIVE EVERYONE ON YOUR LIST  
How amazing would it be to gift someone something that could actually change, enhance, amplify, and balance their energy based on their interests, life stage or passions? With The Crystal Boutique Gift Guide – we take the guesswork out for you and give you the power to change your friends and families energy with a gift they will keep and cherish forever. Happy Shopping and Happy Healing! 
For Your Significant Other 
Rose Quartz of course! The stone of unconditional love...
For the Health and Fitness Freak
Amethyst to relieve stress and anxiety
Carnelian for extra energy and confidence in your workout and in your mind (available in our Chakra Starter Kit)
Clear Quartz is the "master healer" - it cleanses the body and is just what you should reach for if you suffer from allergies, caught a darn cold or have a headache
For Your Best Freaken Friend Ever
Lapis Lazuli is 'The Stone of Truth and Companionship' and the stone of friendship.
For the Single Girl Looking for The One (or the one for the night)
Rose Quartz is the one!  This pretty pink stone attracts romance into your life while promoting self-love at the same time.  What's not to love?
and
Our best selling Tinder Survival Kit - a pocket sized pouch of each crystal you need to rock all of your dates and maybe even find love!
For the Tech Junkie
Sodalite and Red Jasper (both available in our Chakra Starter Kit) – these stones block, clear and neutralize the harmful EMF (electromagnetic fields) that we absorb from cell phones, laptops and other electronics. Too much absorption can have an adverse effect, particularly to energy sensitive people, causing physical manifestations such as Headaches, Depression, Memory Loss, Irritability, Chronic Fatigue and a weakened Immune System….NO thank you.
For the GirlBoss
Sunstone for your badass, #girlboss bestie.  This stone is for personal power, independence, and leadership.  Whether she's saving lives, or starting a new business or is the girl that "does it all" - this stone will support her in all her endeavors.  
Lapiz Lazuli – incredibly balancing and helps with communication – a must for moving on up in the world.
For the Dog Obsessed
Clear Quartz is the crystal for pets; it boosts immune system, speeds up healing and enhances vitality.  Amethyst is perfect for pups with separation anxiety, as it eases fears and lowers stress!
For the Traveler
Amethyst is known as "the traveller's stone". Carry this violet beauty with you on the road for protection whilst exploring the world!  
For the Creative
The protective Tiger's Eye activates our third eye - and helps us really see what our true skills and talents are.  Having a creative block?  Tiger's eye helps release the block and enhances our personal power.  
For the Spiritual Junkie
Tap into all of the seven Chakras with the Chakra Starter Kit - perfect for beginners or those looking to expand their collections and get down with the healing touch.  With one stone for each chakra - you can ensure your entire being will be aligned.  
WHAT'S INCLUDED:  Amethyst, Lapiz Lazuli, Sodalite, Green Serpentine, Tiger Eye, Orange Cornelian, Red Jasper - all together in a Crystal Boutique Bag with instructions and details on each stone.
For the Bride to Be
Rose Quartz – the stone of unconditional love
Lapiz Lazuli – something blue of course! This is also the stone of truth and companionship.
Amethyst – For distressing and reducing anxiety – all that planning would make anyone go a little nutty…
For a New Mom
Pregnancy Crystal Kit – keeping the mom to be zen and in tune with her all of her maternal energies from conception to delivery and beyond
 This post is not intended for use as medical advice.