WHY HEALING CRYSTALS MAKE THE PERFECT BRIDESMAIDS GIFT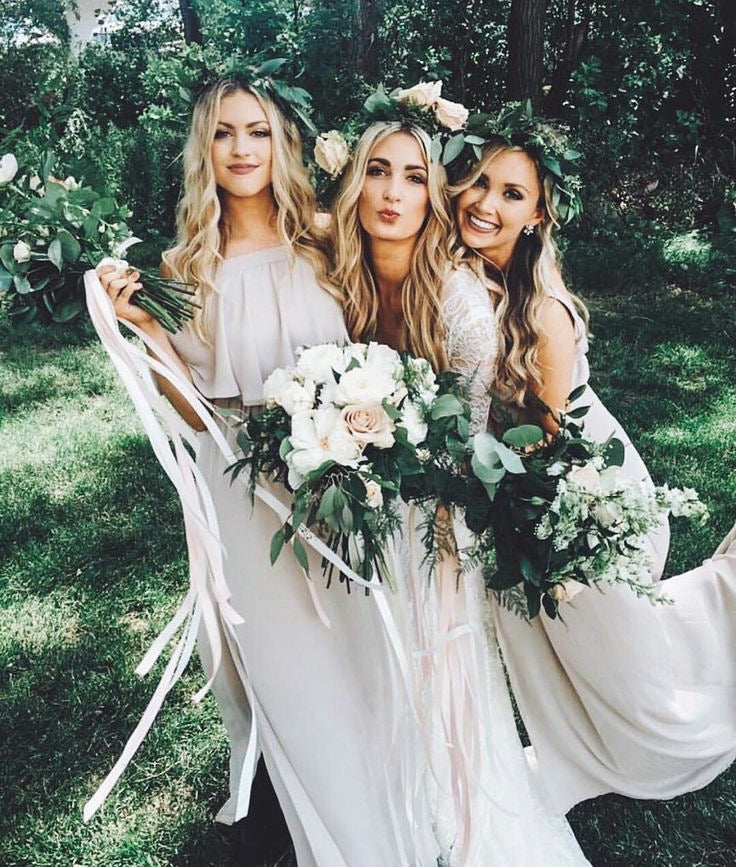 So you've finally decided which beautiful friends of yours will be standing next to you as you say your "I do's".  You've shared everything with these girls - they've helped you pick out your dress, held your hair back one too many times, and are always there for you when your boss is driving you nuts.  These girls are special.  Too special to just give them matching robes with their initial embroidered.  These girls deserve something...well...special.
Personalized crystals for your girls are something that will not only look gorgeous, but will stoke their personal fire.  A symbol of your wish for their health and wellbeing.  Picking a personal crystal for your bridesmaids will not only show how well you know them, but emphasize your respect for who they are as individuals.  
Whether she's living in a world of wanderlust, is totally boy crazy, or a major girl boss, we took the guesswork out of picking the perfect crystals for your girls as a thank for supporting you on your big day, and beyond!
For the GirlBoss
Look no further than the Sunstone for your badass, #girlboss bestie.  This stone is for personal power, independence, and leadership.  Whether she's saving lives, or starting a new business - this stone will support her in all her endeavors.  
For the Boy Crazy
Rose Quartz is the one!  This pretty pink stone attracts romance into your life while promoting self love at the same time.  What's not to love.
For the Dog Obsessed
Clear Quartz is the crystal for pets; it boosts immune system, speeds up healing and enhances vitality.  Amethyst is perfect for pups with separation anxiety, as it eases fears and lowers stress!
For the Traveler
Amethyst is known as the traveller's stone. Carry this violet beauty with you on the road for protection whilst exploring the world!  
For the Creative
The protective Tiger's Eye activates our third eye - and helps us really see what our true skills and talents are.  Having a creative block?  Tiger's eye helps release the block and enhances our personal power.  
For the Spiritual Junkie
Tap into all of the seven Chakras with the Chakra Starter Kit - perfect for beginners or those looking to expand their collections and get down with the healing touch.  With one stone for each chakra - you can ensure your entire being will be aligned.  WHAT'S INCLUDED:  Amethyst, Lapiz Lazuli, Sodalite, Green Serpentine, Tiger Eye, Orange Cornelian, Red Jasper - all together in a Crystal Boutique Bag with instructions and details on each stone.
READ HOW OTHER CRYSTALS CAN HELP YOU IN "REAL LIFE" HERE
HOW TO RELIEVE YOUR ANXIETY WITH CRYSTALS
THE HEALING CRYSTAL THAT COULD CURE YOUR HANGOVER
THE ESSENTIAL CRYSTALS TO BRING ON YOUR NEXT TINDER DATE
VEGANISM, BURGER KING, AND THE NEW MOON IN SCORPIO- AND WHAT IT MEANS FOR YOU
This post is not intended for use as medical advice.